India . Rajasthan
The Blue City – Jodhpur | An Unusual Experience
On April 2, 2020 by trips
People often told me legends about this enchanted city in Rajasthan, The Blue City – Jodhpur. The city of kings and queens. Tales of their bravery. Their amazing forts and palaces. The houses and especially doors colored in blue, making the entire city look like a lake or maybe sky. Moreover, blue is my favorite color. Hence I was naturally drawn towards this city, and believe me, It was quite an unusual experience for me.
I reached Jodhpur station around midnight. Since this was an unplanned trip or much of a detour from Udaipur, I did not make any previous bookings. Therefore, I inquired at the railway counter for any room available, and luckily I found one. It was a long week, and I was exhausted; hence, I fell asleep immediately.
I woke up fresh, and after extending my stay for another day at the same retiring room, I went for the world-famous cutting chai at the railway station. Believe me, and it is no ordinary chai. Indian Railways and its cutting chai, its another story but, the best part, wherever you go, it tastes the same. After routine Chai-Sutta, Sutta, of course, outside the station, I scribbled a simple itinerary for the day.
First on my list was The Mehrangarh Fort.
I booked an auto for the tour. The auto driver was really cool. On my way to the fort, he took me to this fantastic street-side shop for the delicious Pyaaz Kachori. After breakfast, we left for the Mehrangarh Fort. We reached around 8.30 am, and as we were early since the fort opens at 9 am, we have to wait for half an hour. At that time, Raghu, my auto driver, started telling me some totally different story. He was saying something about his personal life. Initially, I was interested but, later on, I just kept nodding. Whenever he asked me something, I smile. Although, I wasn't ignoring him, I was more curious about the fort. At sharp 9 am, fort opened. Raghu told me to meet around 2 pm as we need to cover some more locations. I nodded at him once again and went inside.
The moment I walked inside the fort, I was astonished by the raw beauty and its grandeur. I was not interested in hiring a guide, so I just walked around the fort. You will find all the information and history at every step. Meanwhile, if you are a History Seeker, you won't need any local guide. Although they certainly do an outstanding job and must be promoted. But, at this instant, I want to explore the fort on my own.
Anyways, some information about the fort-
Mehrangarh Fort was built around 1459 by Rao Jodha. This fort is situated 400 feet (125m) above the city. Entry to this fort is gained through a series of seven gates.
Timings:
9 am to 5 pm daily
Entry Fees:
Indian visitors- ₹60
Foreign visitors- ₹400
Camera Fees- ₹100
Audio guide tours are available:
International visitors- ₹600
International students- ₹400
Legend says before Mehrangarh fort was built, A hermit named Cheeria Nathji used to live on the hill. Still, Rao Jodha had the hermit removed to construct the fort. Thereupon, the angry hermit cursed the fort and who lived in it to face scarcity of water. For this reason, the city faces extreme drought after every 3 to 4 years. Moreover, to escape from this curse, Rao Jodha built the hermit another home and also constructed The Chamunda Mata Temple
The Chamunda Mata Temple
A well-preserved temple inside the glorious Mehrangarh Fort, built at the same time the fort was constructed. Chamunda Mata is said to be the "Isht Devi" of the royal family. While walking towards the temple, you might feel attracted. It happened to me.
Although my intentions were clear, firstly, to cover the entire fort as soon as possible. Secondly, to take as many photos as I can. Thirdly, and most importantly, to meet my auto driver at the decided time. But, I was so awestruck with the fort that I wanted to see as much as I can. Of course, photos cannot capture emotions, and so I was filling everything in my eyes.
Here and there, local musicians can be seen playing folk music wearing traditional dress.
Fun Fact:
Christopher Nolan Shot The popular 2012 film from the Batman series' The Dark Knight Rises' here in the fort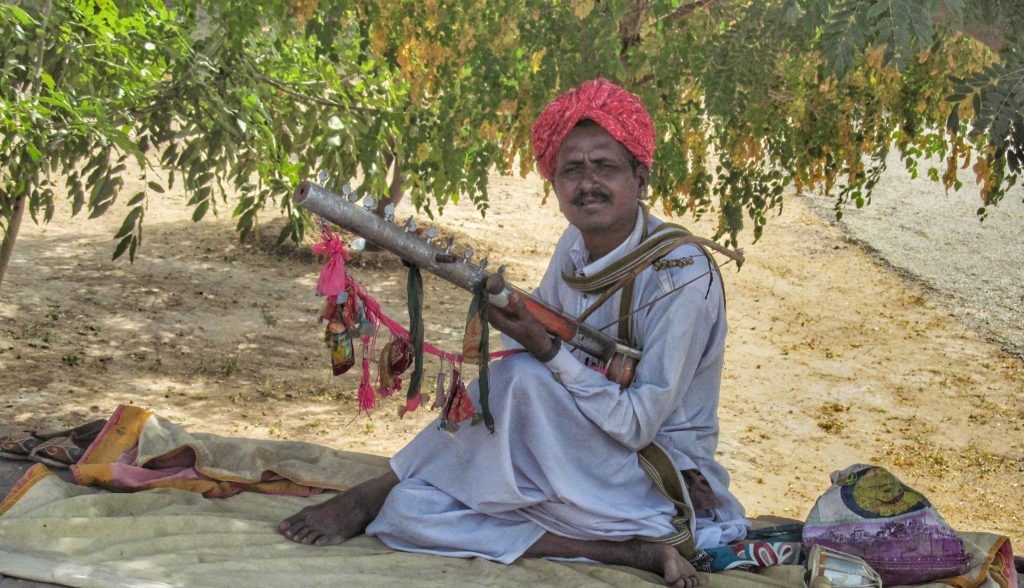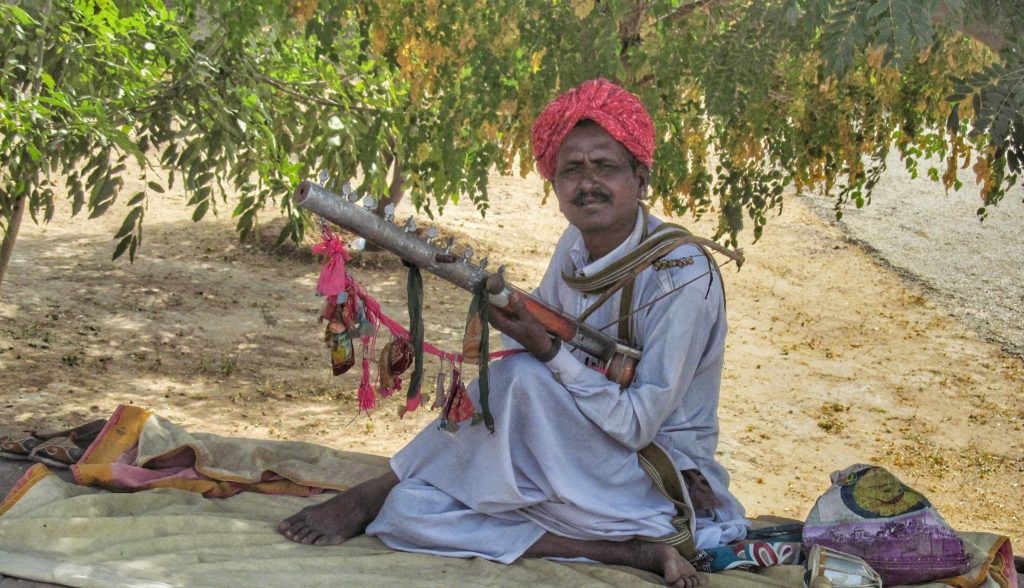 Mehrangarh Fort is considered to be one of the most magnificent forts and, the city of Jodhpur is just like a blue sheet covering the surrounding areas. Needless to say, it's beautiful. Moreover, you have to follow a specific path inside the fort so that you can cover all the areas. You can roam freely, but you might get lost, and although it's exciting, I won't suggest the first time visitors.
Walking down the fort will make you nostalgic. You may find yourself lost in history and the great past of the place. The Blue City – Jodhpur is on the brink of the Thar desert. For this reason, this place is scorching and humid in summer but, winters are cold. Temperature can vary between 36°C to 10°C.
"Generally, October to February is the best time to visit Jodhpur."
After the guided path tour, I was simply roaming inside the fort, and I must say. It was a thrilling experience. Each and every corner of this enormous building speaks, only if you are willing to listen.
The panoramic view of the Mehrangarh Fort is breathtaking. Walking on the corridor, I can feel the patronage of folk art and culture by the local people and which is really exciting. They still perform folk dances and music daily.
Among all other things, I found a staircase; it was really artistic. The craftsmanship of those artisans must be amazing. Although I wanted to spend more time, I have to leave. I went out of the fort, and I found my driver waiting for me, although he was pissed and brooding, he showed me another masterpiece of Rajasthani Arts and Architecture.
Jaswant Thada – The Taj Mahal of Mewar
Surrounded by lush green trees, this cenotaph was built by Maharaja Sardar Singh of Jodhpur State in 1899 in memory of his father, Maharaja Jaswant Singh. This is also the cremation ground for the royal family of Marwar. Made of flawless white marbles that still retain all its grace, Jaswant Thada is a beauty no tourist wants to miss. This beautiful mausoleum in Jodhpur is a visual delight. Jaswant Thada also consists of lovely paintings of previous rulers of Mewar. Although the whole building is made in Rajasthani style, the dome also reflects Mughal's architecture. Jaswant Thada is quite a mesmerizing and peaceful place. A resting place must be a calm and quiet place, but I was amazed by the uncanny calmness surrounding the area. It was not spooky but composed. Anyways, after visiting Mehrangarh Fort, if you feel tired, Jaswant Thada will definitely restore your energy.
Due to some superstitious beliefs, Jaswant Thada remains mostly uncrowded. Next on my list was The Umaid Bhawan Palace
The Umaid Bhawan Palace
The construction of Umaid Bhawan Palace was started in the year 1929, and it was completed in 1943. If vintage cars excite you, there is a massive collection of vintage cars inside the palace. Also, a unique collection of clocks throughout different periods of history is impressive. It took me hardly 1 hr to complete the tour and get back to my Auto.
On Personal Note
Every city in Rajasthan has its own color. Jodhpur is a blue city. The food is fantastic, and you will find the Marwari essence everywhere. While traveling Rajasthan, you have to increase your appetite. My lunch was a wholesome Marwari Thaali, and I must say it was delicious. Although, due to a particular eating habit, I cannot taste everything. But whatever I ate was amazing, and I can still savor that flavor.
Other places of attraction in Jodhpur
Mandore Gardens
Osian Temples
Rao Jodha Desert Rock Park
Kailana Lake
Clock Tower
Balsamand Lake
Finally: Leaving The Blue City – Jodhpur to reach The Golden City – Jaisalmer
I was back at my railway retiring room with another ticket in my hand, another unplanned trip. Jaisalmer, The Golden City. If you ever want to visit Rajasthan, try to visit during winters, not just the climate is soothing but over all weather is something else. Late night walks and having roadside tea is a must. Although, due to various superstitions, most places of attractions remain closed after 6 pm. The cool breeze will flow, and you will suddenly feel sentimental as if you have stayed in this place for a very long time. It feels like everyone has a past in here. That is the magic of Rajasthan.
Please leave your comments below
See you soon, take care and keep smiling
Calendar
October 2021
M
T
W
T
F
S
S
1
2
3
4
5
6
7
8
9
10
11
12
13
14
15
16
17
18
19
20
21
22
23
24
25
26
27
28
29
30
31